We had another great anawangin tour package experience last month, February 26-27 to be exact, an early summer getaway in Anawangin Cove, Pundaquit, San Antonio, Zambales. We also went to Capones Island to see the old Japanese Light House plus a swimming galore experience in Camarra Island.
By the way, if you don't know anawangin cove yet or if you don't have any anawangin tour package experience yet, you may check this youtube video below. This is created by imAcursor:
Anawangin cove is a simply but an amazing beach cove. Imagine when you're there, you're facing the beach and when look at your back, fine trees! It's like you're in Bora or you're in Puerto but when you looked back you're already in Baguio. Perfect weekend getaway for officemates and barkadas.
Being there in Awawangin Cove is really a cool weekend getaway for us especially to our newly found friends from Laguna. You just need to prepare yourself just like them. Why? You will experience a 20 to 30 minutes of local boat ride (depending on water condition). Pwede ka magbaon ng gamot kung ikaw ay isang taong byahilo (kung madali kang mahilo dahil sa alon). But look at the picture below. Ganda diba? If you want to see this amazing view, you also need to stretch a little bit because it will take few minutes of trekking before you rich the view deck. But when you're there already, you will never miss to take pictures with this at your background. (Tyak! inggit si classmate or si officemates sa'yo)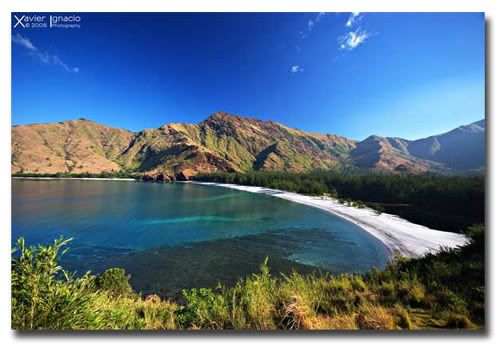 Anawangin Landscape Photo by Xave Ignacio
Coming from an employee point of view, just like us, our newly found friends from Laguna are slightly tired from a routine job and just wanted to enjoy, relax and refresh their mind. Enjoy and Relax. We need these once or twice a year. Well, if you can afford, you can have it anytime you want. Don't go anywhere else. You can find many beautiful beaches here in the Philippines. We will recommend Anawangin Cove. Anawangin plus island hopping in Capones and Camarra is perfect place to go.